Week #3 – 2019 Winter Quarter
Grad Slam Extended Deadline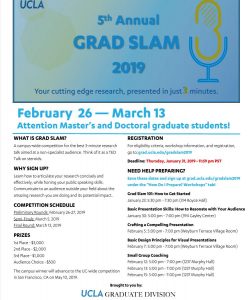 For more information on how to apply click the following link: http://grad.ucla.edu/gradslam2019
——————————————————————————————————————————————————————–
Fulbright-Hays Doctoral Dissertation Research Abroad (DDRA)
Dear Students,
We are pleased to inform you that the US Department of Education will once again offer the Fulbright-Hays Doctoral Dissertation Research Abroad (DDRA) program. They announced the competition dates today and the turnaround, as is often the case, will be swift.
The Fulbright-Hays DDRA program provides grants to fund individual doctoral students who conduct research in other countries, in modern foreign languages and area studies, for periods of 6 to 12 months. The grant period will run from October 2019 to March 2021. Students do not need to be advanced to candidacy to apply; however, should they be awarded, they must advance prior to activating the grant.
*A research project must focus on one or more of the following geographic areas: Africa, East Asia, Southeast Asia and the Pacific Islands, South Asia, the Near East, Central and Eastern Europe and Eurasia, and the Western Hemisphere (excluding the US and its territories).
*Area studies means a program of comprehensive study of the aspects of a society or societies, including the study of their geography, history, culture, economy, politics, international relations, and languages.
*There is a competitive preference for research projects conducted in the field of science, technology, engineering, mathematics, computer science, education (comparative or international), international development, political science, public health, or economics.
*Students must be US citizens or permanent residents.
The initial campus deadline for a draft of application materials will be February 25th with the final deadline at the end of March. Students must apply through the Graduate Division and will receive feedback on their applications from an internal review process. I'll explain this process and provide extensive details at the seminars listed below. The DDRA funds a healthy percentage of the applicants who apply; I highly recommend your students apply even with the short notice from the DOE.
RSVP via the links provided:
N.B. Fulbright-Hays is a different program from the Fulbright US Student program. This is for dissertation research only.
——————————————————————————————————————————————————————–