Hilda Koopman

Department of Linguistics
3125 Campbell Hall
UCLA

Los Angeles CA 90095
mylastname AT ucla.edu
General Research Interests
Field linguistics and documentation:
African languages:
Kru languages (Vata, Dida, Gbadi..),
Gur (Nawdem),
Mande (Bambara),
Kwa (Abe(y)..),
Grassfield Bantu (Nweh, Ncufie, Bafanji)
West Atlantic (Wolof, Fulani),
Bantu (Ndendeule, Siswati)
Nilotic (Maasai, Dholuo)
Austronesian (Malagasy, Javanese, Samoan, Tongan)
Creole languages (Haitian, Sranan, Saramaccan.)
Formal Linguistics
Syntactic theory
Morphosyntax
Comparative syntax
Syntax/Phonology interface
Personal interests
I am both a fieldworker in a traditional sense and a theoretical linguist.
As fieldworker, I enjoy working on un(der)described languages from the ground up, constructing detailed descriptions of languages of different origins, comparing languages, doing language documentation, building databases. It is also important to me to make data accessible particularly to native speakers, and to train native speaker to become linguists as their language in all its nuances and intricacies is an important of their cultural heritage, and the privileged access to their language native speakers have will allow ever deeper and refined understanding of this wondrous human attribute.
I am also a contemporary theoretical linguist attempting to formulate general abstract principles human grammars obey. I try to uncover the invariant properties of human languages, in order to figure out the design specifications underlying all human languages. Inspired by the remarkable theoretical developments of the last half century, I take it that one of the core research challenges linguists face is to reconcile the apparent ease with which children acquire their native language with its extraordinarily rich, complex and subtle properties – suggesting a rich array of common abstract specifications - with the apparent diversity of human languages, suggesting a lack of such common specifications.
Over the course of my career, my theoretical contributions have largely been based on original fieldwork on previously un(der)described or understudied languages, mostly African languages from various families, and more recently also Austronesian or Polynesian languages. I have also worked extensively on better described languages such as Dutch, French, English, Hungarian, Korean, Japanese or Chinese.
My descriptive and theoretical interests are not just parallel. Rather the two aspects closely interact in my research: I bring data from typologically diverse languages to bear on issues of a highly theoretical nature. Conversely, I apply abstract and complex theoretical concepts to the analysis of these languages.
Concretely, I formulate hypotheses about the abstract specifications of the (constantly evolving) general model of language structure by applying this model to very different conditions in the field, i.e. by approaching fieldwork on human languages from a theoretical angle, and by trying to figure out what we can learn about the specifications of the theoretical model from the syntax of individual languages or from their syntactic comparisons. I enjoy the challenge of creating order in large portions of complex unanalyzed data. I seek to achieve this goal parsimoniously, by combining a few independently motivated theoretical principles with specific detailed analyses, often, by necessity, challenging explicitly or implicitly established assumptions.
A selection of recent articles
2012. Samoan ergatives as double passives, in L.Brugé, A. Cardinaletti, G Giusti, N. Monera, and C. Poletto (eds), Functional Heads, Oxford University Press. (2008) http://ling.auf.net/lingBuzz/000768
2012. Recursion restrictions: when grammars count (2012)
To appear in Speas and Tom Roeper (ed) Recursion, Oxford University Press. http://ling.auf.net/lingBuzz/001463
2010. On Dutch allemaal and West Ulster all. in J. Wouter Zwart and Marc de Vries (ed.) Structure Preserved Benjamins Publications. p.267-275. http://ling.auf.net/lingBuzz/001139
2010. The Dutch PP: Prepositions, Postpositions, Circumpositions and Particles. In Cinque and Luigi Rizzi (eds) Mapping Spatial PPs. The cartography of Syntactic Structures, volume 6. G. Oxford University Press. Click here
2010. Verbal complexes and complex verbs: a single computational engine. 12th International Symposium on Chinese Language and Linguistics. Taipei, June 2010. (available on demand)
2010 On restricting recursion and the form of syntactic representations. (April 2010. http://ling.auf.net/lingBuzz/001138

with Dominique Sportiche (in press) "The que/qui alternation: new analytical directions" to appear in Peter Svenonius (ed) Functional Structure From Top to Toe. Oxford University Press. (2008) http://ling.auf.net/lingBuzz/000638
<![if !supportLineBreakNewLine]>
<![endif]>
2007. Topics in imperatives, in Wim van der Wurff, Imperative clauses in Generative grammar, Studies in Honor of Frits Beukema, Linguistic Actuell/Linguistics Today 103. John Benjamins. click here
2006. Agreement: in defense of the "Spec head configuration". in C. Boeckx (ed) agreement systems. John Benjamins For a version of this paper click here
2006 "When to pied-pipe and when to strand in San Dionicio Octotepec Zapotec" in Hans Broekhuis et al., Organizing Grammar. Mouton de Gruyter.
2005 Malagasy Imperatives http://www.linguistics.ucla.edu/faciliti/wpl/issues/wpl12/papers/Koopman_AFLA12.pdf
2005. "On the parallelism of DPs and clauses in Kisongo Maasai". In Carnie, Andrew, Sheila Dooley, and Heidi Harley (2005) Verb First. John Benjamins Philadelphia.. For a version of this paper click here
2005 "Korean (and Japanese) morphology from a syntactic perspective".
Linguistic Inquiry 36.4. 601-633. For an electronic version click here
2002. Derivations and complexity filters. To download an earlier version, click here
Hard-to-find- or unpublished papers:
1997 "Unifying Predicate Cleft Constructions" in K. Moore (ed.) Proceedings
of the twentythird annual meeting of the Berkeley Linguistics Society. Keynote address: February 14-17,
1997: Special session on syntax and semantics in Africa
This paper deals with predicate cleft constructions in Vata and Nweh. (click here) An idea about how to approach language variation in an antisymmetric framework where everything moves overtly, pied-piping is the norm, and underlying hierarchies are universal. Also in the Syntax of Specifiers and Heads (2000).
1997 "The Doubly filled C filter, the Principle of Projection Activation and
Historical Change" This is the written version of a key note speaker address at DIGS in Montreal. It was supposed to appear in a volume that unfortunately never materialized. It applies the doubly filled filter and the Principle of Projection activation to historical data from English. I would love to have feedback on this paper. The paper focuses on when languages loose lexical items and what this implies for syntactic change. For a copy click here Digs
2004. "Agreement-lite". A short summary of judgment patterns of 17 speakers for plural agreement in English there-insertion constructions, depending on interveners. Click here
2011 With Dominique Sportiche and Ed Stabler Introduction to Syntactic Analysis and Theory (ISAT). (2011) (soon to appear).
2000, with Anna Szabolcsi Verbal complexes . Current series in Linguistic Theory. MIT Press.
2000 The Syntax of Specifiers and Heads. Leading Linguist Series. Routledge. For ordering information click here
1984 The Syntax of Verbs: from Verb Movement rules in the Kru Languages to Universal Grammar, ­Foris Publications. (out of print for a pdf copy click here )
Edited books:
1983. Current Approaches to African Linguistics,­ with J. Kaye, D. Sportiche and A.Dugas (eds), Foris Publications, Dordrecht.
Selected handouts (since october 2011)
The following slides are from a very long presentation at the Case by Case/Cas par Cas" workshop in Paris, ENS October 2011. They pretty much summarize the state of my current research on ergativity, case and the interaction of subject and object marking. (Some of which can be found in print (Samoan ergatives as double passives and On Dutch allemaal and West Ulster all . ))

The dance of subjects and objects and the cases they create
Some Statistics: 5/2/2012
<![if !vml]>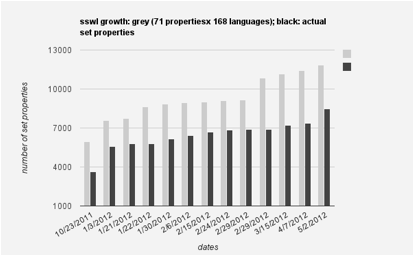 <![endif]>
<![if !vml]>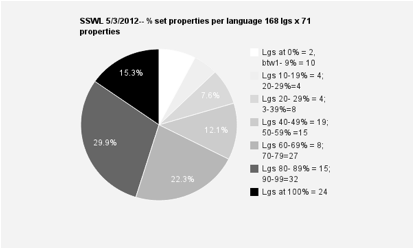 <![endif]>
Specific contributions to SSWL:
Property definitions (the initial tags will eventually be hidden)
N2 01_Numeral Noun (indefinite)
N2 02_Noun Numeral (indefinite)
A series of secondary properties that follow up on these coding for formal differences between indefinites and definites:
N2 05_Definite NP (Num N, N Num) has a definite article
N2 06_Definite NP (Num N, N Num) has a demonstrative
N2 07_Definite NP (Num N, N Num) lacks a definite article or demonstrative
N2 08_Definite NP (Num N, N Num) contains a Plural marker, but Indefinite NP does not
N2 09_Definite NP (Num N, N Num) contains any other marking
N2 10_The Numeral has a different form in Definite and Indefinite (Num N, N Num) contexts
And with Cristina Guardiano:
Order N3 07_Demonstrative Numeral Noun
Order N3 08_Demonstrative Noun Numeral
Order N3 09_ Noun Numeral Demonstrative
Order N3 10_Noun Demonstrative Numeral
Order N3 11_Numeral Demonstrative Noun
Order N3 12_Numeral Noun Demonstrative
And many more in different stages of development.
Data entries: for Dutch, Vata, Dholuo, Maasai (Kisongo), Nweh.
Tools for comparative syntax (and links to some resources)
Meertens Institute, Amsterdam (Dynasand)
Wals World atlas of the World's language Structures
Afranaph African anaphora project (Rutgers University)
Resources Department of Linguistics, Max Planck Institute for Evolutionary Anthropology
ALS 2009. (two weeks hosted by NYU in Ghana) One of the biggest challenges most African countries face is the maintenance and management of linguistic diversity. In order to meet these challenges, it is necessary to have access to advanced linguistic tools. This school aimed at offering African students the possibility of becoming familiar with new advances in linguistic description and theory. 70 African students participated! The school was held in Accra, Ghana and centered around four major linguistic domains: Syntax (I taught syntax 2), Phonology, Semantics, and Language Contact. The school was a resounding success and just a wonderful experience.
The second African Linguistics School 2011 was held in Porto-Novo, Bénin.