Bruin Linguists Society

The Bruin Linguists Society (BLing) is the UCLA Linguistics' undergraduate student association. We host events every quarter that are geared towards undergraduate students' success in career, academics, and the linguistics community.
Among the events that BLing puts on every year is the Southern California Undergraduate Linguistics Conference (SCULC). Although this event typically takes place annually, due to precautions around COVID-19 we have unfortunately elected to cancel the SCULC for 2020.
Upcoming Events
Fall 2020 Finals Study Sesh
Join us this Friday for our Fall 2020 Finals Study Sesh! We'll have a Zoom room open for everyone to study or work on projects in a chill and collaborative environment. Feel free to bring questions or topics you'd like to discuss with peers!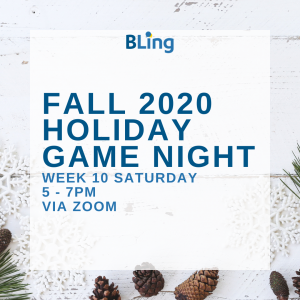 Come hang out this Saturday to chill and play games with other Bruin Linguists! We'll be hosting a casual hang-out for the first portion of the event before we dive into some fun games like skribbl.io, Spyfall, and All Bad Cards! Feel free to suggest other games for us to play together, too. Bring your friends and a cozy beverage!
Don't forget to follow our social media accounts and/or join our Slack channel for more information on upcoming events! Join Slack with your @ucla.edu email.