Advising
VISION
Academic advising at UCLA is committed to fostering student development in ways that help students thrive intellectually, professionally, and personally, here and beyond. As a critical component of the University's mission, advisors guide students through their transitions, create spaces that encourage them to engage with their diverse communities of scholars, expose them to new ideas and experiences, and prepare them for life after UCLA. Advisors are dedicated to cultivating their own professional growth so as to understand best practices of providing advising that directly addresses student needs, facilitates student learning, and cultivates empowerment. Quality advising inspires both students and advisors to be change-agents, leaders, and valuable contributors to our diverse and ever-changing world.
MEET THE ADVISOR
Jacquelyn Perez is the Undergraduate Student Affairs Officer for the Department of Linguistics. She is an alumna of UCLA where she earned her B.A. with College Honors as a first-generation transfer student. Jacquelyn has been serving the Bruin family as a Student Affairs Officer since 2015 and is passionate about providing support to students of all ages and walks of life during this chapter of their journey. She currently serves as a mentor for the Advising Communities of Excellence (ACE) mentorship program where she mentors other advisors on campus and also sits on the planning committee for the Humanities Career Panel Series (HCPS) , a professional development tool provided to students by the Division of Humanities in the College of Letters and Science.
If you have any questions regarding the grading basis of Pass/No Pass, please visit the Majors and Minor page for more information.
HOW TO CONNECT WITH THE ADVISOR
*Advisor's availability may vary due to other scheduled appointments, meetings, and events.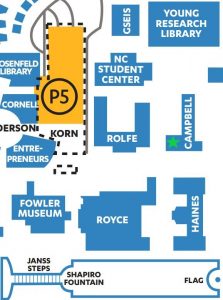 *Green star indicates the location of Linguistics undergraduate office, 3126C Campbell Hall.