Advising
VISION
Academic advising at UCLA is committed to fostering student development in ways that help students thrive intellectually, professionally, and personally, here and beyond. As a critical component of the University's mission, advisors guide students through their transitions, create spaces that encourage them to engage with their diverse communities of scholars, expose them to new ideas and experiences, and prepare them for life after UCLA. Advisors are dedicated to cultivating their own professional growth so as to understand best practices of providing advising that directly addresses student needs, facilitates student learning, and cultivates empowerment. Quality advising inspires both students and advisors to be change-agents, leaders, and valuable contributors to our diverse and ever-changing world.
MEET YOUR ADVISOR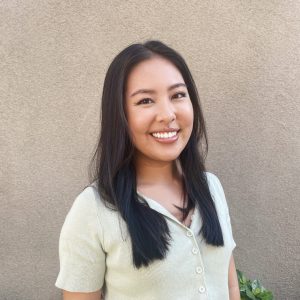 Leigh Bagood
Office: Campbell 3126C
Email: leigh@humnet.ucla.edu
Phone: (310) 825-4632
HOW TO CONNECT WITH AN ADVISOR
For questions/concerns related to the Linguistics undergraduate program, feel free to email the UG SAO at leigh@humnet.ucla.edu. Please include your full name and UID in all emails. For frequently asked questions, please visit the Majors and Minor page.
Schedule an Advising Appointment
To schedule an in-person* or virtual 30-min appointment, please reserve a timeslot and include the following information: UID Number and Reason for Meeting. Virtual appointments will take place over Zoom and in-person appointments will take place at 3126C Campbell Hall. Appointment availability is as follows:
Tuesdays, 2:00PM – 4:00PM
Wednesdays, 2:00PM – 4:00PM
Fridays, 2:00PM – 4:00PM
*For in-person appointments, please refer to and cooperate with the most up-to-date UCLA COVID-19 Protocols including masking requirements/recommendations. Thank you for your dedication to keeping our community safe and healthy. 
College Advising Units
If you have a question about your General Education requirements, IGETC certification, College petitions, etc., please consult the links below for up-to-date information on how to access your college counseling unit: