Honors
Honors in Linguistics are awarded at graduation to those students who have a grade-point average of 3.6 or better in their junior and senior years, and who have received a grade of A in either (1) a Linguistics 199 Senior Project or (2) Linguistics 198A-198B Honors Essay. These courses provide an opportunity to engage in independent research and to write a paper that can be submitted to graduate admissions committees. This is an excellent opportunity for those students who are considering graduate school.
The Department awards two levels of honors:
Departmental Honors: Students must have a 3.6 overall GPA for their junior and senior years, and must complete either a Linguistics 199 Senior Project or a Linguistics 198A-198B Honors Essay with a letter grade of A. No special nomination or application process is necessary for students who meet these requirements.
Departmental Highest Honors: Qualified students may be nominated by any member of the faculty to the faculty as a whole for the award of Highest Honors on the basis of research in linguistics completed at UCLA that exceeds the standards normally expected of undergraduate students. The written work would typically (though not necessarily) be completed as a 199 Senior Essay or a 198A-198B Honors Essay. Conferral of Departmental Highest Honors requires a favorable vote by the Department's entire faculty. If you're interested in being considered for Highest Honors, talk to your 198 or 199 professor or the professor who advised your research.
Departmental Honors is noted on the UCLA diploma and recipients will be recognized during the Linguistics commencement ceremony.
A monetary award may be granted to students who earn Departmental Honors at the discretion of the Department Chair and the Director of Undergraduate Studies.c
Departmental Honors Recipients 2021-2022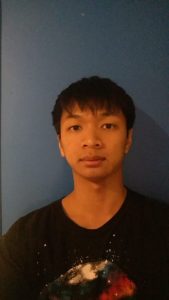 Trevor Htoon — Trevor has a wide variety of interests in Linguistics (and even in other fields). His strongest interests are in Historical, Socio-, and Anthropological Linguistics (although he is interested in other domains such as Computational, Applied, etc.). Within these fields, Phonology, Morphology, Syntax, and Dialectology are what he enjoys focusing on. His specialties lie mostly within Asian and Indo-European languages (but his degree is just in Linguistics).
Guoran Zhang — Guoran Zhang is a Chinese-English bilingual speaker. She is a recent graduate from UCLA who began her journey in the field of Linguistics after her sophomore year, and now is driven to pursue a master's degree.
Departmental Honors Recipients 2022-2023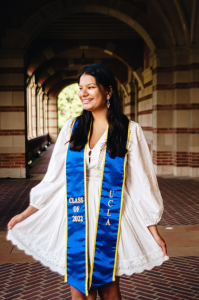 Shalinee Maitra — Shalinee Maitra graduated in December 2022 with a degree in Linguistics and Computer Science. She worked as a research assistant in the Linguistics department for two years, contributing to computational and language acquisition projects. Her senior research project focused on how children might acquire Spanish word order. In addition to linguistics, she was involved with the Bruin Film Society and the Bruin Democrats at UCLA. She is currently back home in Boston, and plans to pursue a PhD in linguistics in the near future.