Southern California Undergraduate Linguistics Conference
May 27 @ 9:00 am
-
5:30 pm
Learning Pavillion, First floor of Campbell Hall,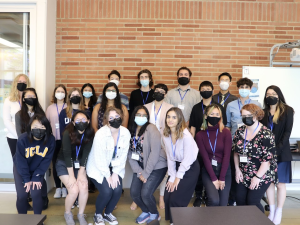 SCULC (the Southern California Undergraduate Linguistics Conference) will be held again at the Learning Pavilion in Campbell Hall by the University of California, Los Angeles Linguistics Department and the undergraduate-run linguistics society, Bruin Linguists Society. Founded in 2010 by Bruin Linguists, SCULC was established to create a collaborative and educational environment for the undergraduate linguistics community. Throughout the years, it has been entirely student-run and free for all participants, presenters, and guests, supported by contributions from the linguistics community, the UCLA Linguistics Department, and individuals working to help enhance and expand the experience of undergraduates in linguistics.
Join us this Saturday for a day of inspirational presentations from 13 undergraduate presenters from 9 different universities: UCLA, UCSC, UCR, San Francisco State University, University of Pennsylvania, Pomona College, Scripps College, University College London, and Princeton University!
Conference Date: Saturday, May 27, 2023 from 9am to 5:30pm
Location: Learning Pavilion in Campbell Hall at UCLA