The quadrennial International Congress of Phonetic Sciences took place in Glasgow, Scotland in early August. UCLA had a strong showing with both current and former members in attendance. The UCLA Phonetics Lab reunion, organized by lab director, Pat Keating, was attended by over 30 current members and alumni.
Pat Keating was also inaugurated as the next president of the International Phonetic Association, becoming the 2nd UCLA phonetician to hold this post and the first woman to do so in the association's 129-year history. In her inaugural address she laid out plans for the IPA to become a major resource for phonetics education as well as research. Here's a photo of Pat receiving the handshake of outgoing IPA president John Esling.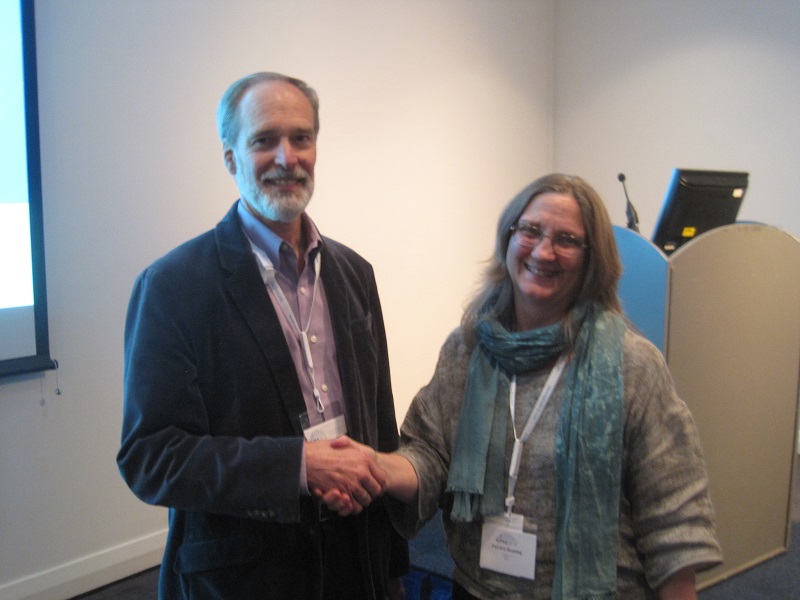 Bruce Hayes and Sun-Ah Jun each gave a talk as a Keynote speaker at the joint meeting of ICPP 2015 (International Conference on Phonetics and Phonology 2015) and TaLK (Theoretical Linguistics at Keio) in Tokyo, Japan, in September 25-27, 2015. The National Institute for Japanese Language and Linguistics website features the full program of the conference.
Their talk titles are:
Sun-Ah Jun: "Interactions between word prosody, prominence type, and macro-rhythm"
Bruce Hayes: "Learning-theoretic generative phonetics with maxent: a Hausa example"
Ann Aly was also a recipient of a Gosta Bruce scholarship to attend the meeting.
Sun-Ah Jun was also a co-organizer of a satellite meeting on the development of an International Prosodic Alphabet.
See below for talks and posters by current (and some more recent) members of the lab and you can also find the full abstract book online.
Talks:
Adam Chong & James Sneed German (Aix-Marseille Université, LPL, CNRS). Prosodic phrasing and F0 in Singapore English.
Snezhina Dimitrova & Sun-Ah Jun. Pitch accent variability in focus production and perception in Bulgarian declaratives.
Megha Sundara, Monika Molnar (BCBL, Spain) & Sonia Frota (Lisbon). The perception of boundary tones in infancy.
Posters:
Ann Aly. The multiple prosodic cues differentiating questions and statements in Miami Cuban Spanish.
Jason Bishop (Ph.D. 2013, now at CUNY-CSI/GC), Adam Chong & Sun-Ah Jun. Individual differences in prosodic strategies to sentence parsing.
Robert Daland & Yun Jung Kim (Ph.D. 2015, now at Emory). It is easier to learn the meaning of forms with a canonical stress pattern.
Pat Keating, Marc Garellek (Ph.D. 2013, now at UCSD) & Jody Kreiman (UCLA Head/Neck surgery). Acoustic properties of different kinds of creaky voice.
Kie Zuraw & Sharon Peperkamp (LSCP, CNRS). Aspiration and the gradient structure of English pre-fixed words.
Here are some photos of UCLA lab members from the UCLA reunion at Shandon Belles. Many thanks to Pat Keating for organizing! (courtesy of Kuniko Nielsen '08):