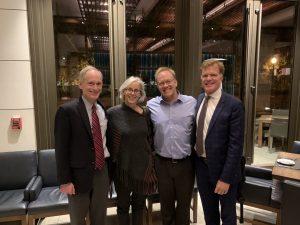 Shown in the photo are Bruce Hayes, Theresa and Henry Biggs, and Dean David Schaberg.
On Oct. 30, the department celebrated the establishment of the Theresa McShane Biggs and Henry P. Biggs Centennial Term Chair in Linguistics with a reception and lecture. The Chair has been endowed by the Biggses to honor Prof. Bruce Hayes, who was Henry Biggs's PhD adviser. Both Theresa and Henry earned an MA degree in UCLA's (former) Romance Linguistics program, and Henry earned his PhD in 1996. They, two of their children, and other family members attended the ceremony, at which Bruce spoke on "Studying verbal art in linguistics: Meter and   mimetic words in Dr. Seuss". It was a very enjoyable event.
Bruce's appointment as the inaugural holder of the Biggs Chair has been announced by UCLA.
A video of the event is available here.