Many current and past department members attended the International Congress of Phonetic Sciences in Melbourne, Australia this month. Adam Chong and Pat arranged an evening social at a local bar.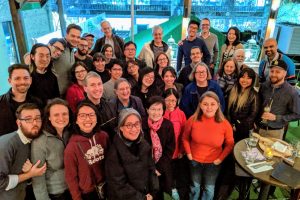 The photo above shows Adam Royer, Beth Sturman, Meng Yang, Ho-Hsien Pan (former visiting scholar), Sun-Ah Jun, Mary Baltazani (PhD 2002), Marc Garellek (PhD 2013), Matt Gordon  (PhD 1999), Pat Keating, Kristine Yu  (PhD 2011), Z.L. Zhou, Hiro Katsuda, Jianjing Kuang  (PhD 2013), Grace Kuo  (PhD 2013), Jody Kreiman, Cynthia Lee (plus one) (post-doc in Jody's lab), Christine Prechtel (plus one), Sahyang Kim  (PhD 2004), Rebecca Scarborough  (PhD 2005), Matt Faytak, Caroline Smith (former post-doc and faculty), Ian Maddieson (former faculty), Sameer Khan  (PhD 2008), Noah Elkins, Jake Aziz, Jeremy Steffman, Connor Mayer (plus one), Taehong Cho  (PhD 2001), Bruce Hayes, Abby Cohn  (PhD 1990), Adam Chong  (PhD 2017), Chad Vicenik  (PhD 2011), Sejin Oh (former visiting student).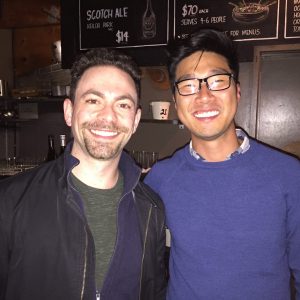 The photo above shows Marc Garellek and Adam Chong.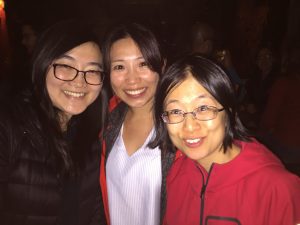 Above, Jianjing Kuang, Grace Kuo, and Kristine Yu posed for a smile at the social gathering.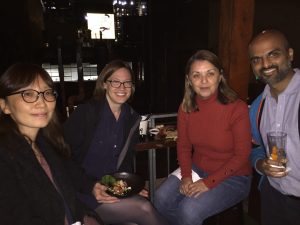 Sahyang Kim, Rebecca Scarborough, Mary Baltazani, and Sameer Khan (above) are shown enjoying the night's festivities together.