A warm welcome to 7 students of the incoming graduate class!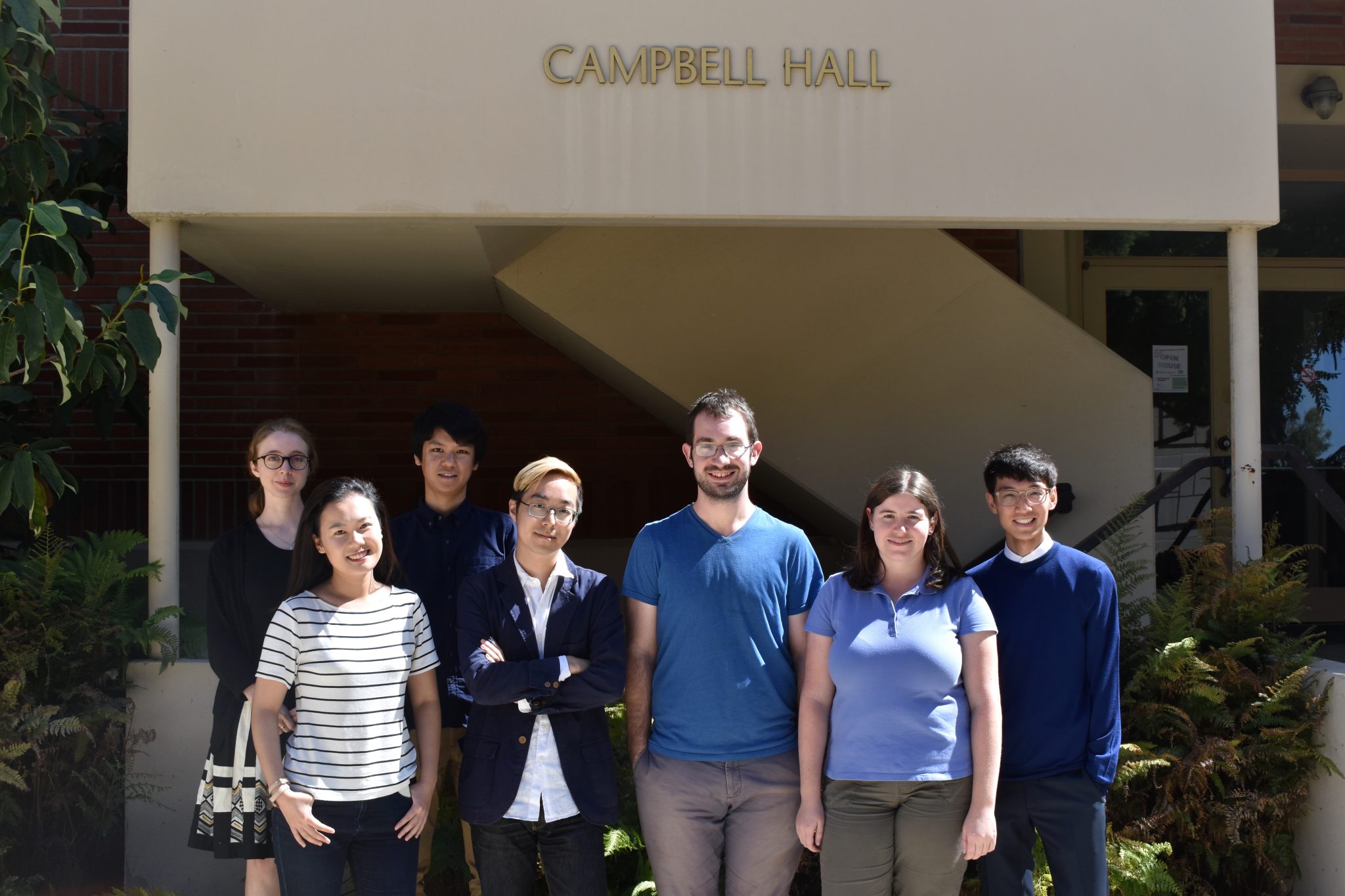 From left to right: Maddy, Kiki, Hiro, Z.L., Canaan, Christine, and Andy.
Our newest cohort provided short biographical information for us.
---
Madeleine "Maddy" Booth
M.Phil., University of Cambridge; B.A., Swarthmore College
Areas of interest: morphosyntax, phonology, language conservation
Hobbies: bread baking, origami, knitting, satire, kayaking, and running half-marathons
Fun fact: Maddy wanted to be molecular biologist before discovering linguistics.
---
Canaan Breiss
via 1 year in UCLA PIES; B.A., Swarthmore College
Areas of interest: phonology, learnability, phonology-(morpho)syntax interface issues and "upstream" phonological effects in the grammar, experimental phonology (corpus, laboratory, psycholinguistic methods), modeling (phonological) variation, sandhi
Hobbies: singing, going to museums
Fun fact: Canaan was voted both "Hardest Working" and "Most Likely to Open a Burrito Stand After Graduation" by his high school class.
---
Katsuda "Hiro" Hironori
University College London
Areas of interest: phonology, phonetics, morphology
Hobbies: table tennis, Japanese calligraphy
Fun fact: In 2011, Hiro visited UCLA for his first overseas trip. Now, he is very happy to be back here.
---
Minqi "Kiki" Liu
B.A., Peking University
Areas of interest: syntax, semantics, and language acquisition
Hobbies: swimming and fencing
Fun fact: The literal meaning of Kiki's Chinese name is an "agile flag".
---
Christine Prechtel
The Ohio State University
Areas of interest: phonetics, intonation, speech perception
---
Zhongshi "Andy" Xu
B.A., UCLA
Areas of interest: phonology, prosody-syntax interface
Hobbies: traveling, sketching, photography
Fun fact: Andy entered UCLA as an undeclared-major freshman four years ago. For the first two years Andy had his mind set on studying industrial design. During the last quarter of his second year, Andy applied for admission into the Design program at UCLA, was rejected, and decided to declare a major in Linguistics instead.
---
Zhenglong "Z.L." Zhou
B.A., Swarthmore College
Areas of interest: Phonology, intonation
Hobbies: Poetry, singing, divination, photography
Fun fact: In undergrad, Z.L. led an a cappella that only sang non-American music.
---
Please also welcome our Departmental Scholars Ang and Neda.
---
Ang Li
Areas of interest: syntax, semantics
Hobbies: culinary creation, styling, reading
---
Neda Vesselinova
Areas of interest: computational linguistics, syntax, semantics